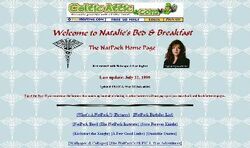 Natalie's Bed and Breakfast was the NatPacker faction site, originally located at http://free.prohosting.com/~romana/natpack/index.html, and now archived.
The site appears last to have been updated 22 July 1999.
Site Design
Edit
The pages of the site all shared a common background tile, with a white caduceus on a solid pale blue ground.
The site included the following:
Definition of the NatPackers' faction.

Brief biographies of members of the faction.
A list of the faction members' birthdays.

A collection of convention photos:
Archive of screen captures of Natalie Lambert.
A collage of pictures of Natalie.
The NatPack Institute
Excerpts of the NatPackers' War adventures:
The NatPack Institute
Edit
The NatPack Institute page provides the following comic curriculum for would-be faction members:
In order to be most assuredly Natpack, one must successfully complete all levels of induction, with grace and ease, including ...
Nick Bashing 301
Games of Gopher for the Motivated
The Zen of Trading Cards
Worship in the Cult of Skinner
Forensic Science Appreciation
General Autopsy 101
Picking the Wrong Guy Every Time
NatPack vs. NatPack
Introduction to Bouncing

One must also fail with resounding thoroughness, the following:
20/20 Vision for the Future
Vampire Envy 101
Introduction to Self-Preservation
Advanced Self-Preservation
Healthy Lungs, Happy Lungs

Site History
Edit
The NatPack faction site is first mentioned on links pages[1] at the address http://members.aol.com/romana/natpage_stuff/index.html; but there is no copy of this version on the Wayback Machine.
The site is first archived at the address http://free.prohosting.com/~romana/natpack/index.html (Wayback Machine copy), with minor variations over its existence.
In 2013, the site was restored and placed in the Forever Knight Website Archive. At the request of the faction, the pages for the birthday list and war bios were removed to protect NatPack members who had left fandom. The pages for conference photos were also removed, since none of the photos had been preserved. This version can be found here.
Wayback Machine copy
Edit
NOTE:
most of the screen captures are in the archive, but not all.
the links to the external War sites still work (leading to archived versions of those sites).
most of the individual war episodes are in the archive, but not all.
the pages of convention photos are missing.
latest archive date: 11 Aug 2002
References
Edit
↑ This is the address given in the archived Many Bytes of Forever Knight page.
Ad blocker interference detected!
Wikia is a free-to-use site that makes money from advertising. We have a modified experience for viewers using ad blockers

Wikia is not accessible if you've made further modifications. Remove the custom ad blocker rule(s) and the page will load as expected.