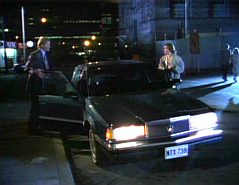 Although as a pathologist Dr. Lambert drives her car to and from homicide scenes, we rarely see much of it on camera. However, it does appear both in the episode "I Will Repay", in Season One, and in the episode "Games Vampires Play" in Season Three.
At the beginning of "I Will Repay", Natalie's younger brother, Richard Lambert, a Crown attorney, is due at the 27th Precinct police station. However, his car breaks down; and he has to call on his sister to come and pick him up. She delivers him to the station, and watches him go up the steps. She is just heading for the car, when he goes in and is shot by a prisoner trying to escape.
At the end of "Games Vampires Play", Natalie's car is seen driving into the yard at 101 Gateway Lane, the building in which Nick has his loft. She then goes upstairs and persuades him to get rid of the equipment for playing the virtual reality vampire game, not because it is supposed to be evidence in the case that he and his partner have just solved, but because she feels that it is reawakening his vampire instinct to kill. He therefore throws the game in the fire.

The licence number of Natalie's car is NTX 738. It is an early 1990's Dodge Dynasty (sold as Chrysler Dynasty in Canada).
Ad blocker interference detected!
Wikia is a free-to-use site that makes money from advertising. We have a modified experience for viewers using ad blockers

Wikia is not accessible if you've made further modifications. Remove the custom ad blocker rule(s) and the page will load as expected.