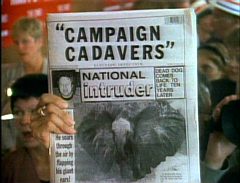 The National Intruder is a trashy tabloid newspaper loosely based on the real-world National Inquirer.
The issue of the National Intruder that is seen in Spin Doctor not only has a headline referring to the murder that Nick Knight is investigating, it also has articles on a dead dog that comes back to life ten years later, and an elephant that can soar through the air by flapping his giant wings.
Ad blocker interference detected!
Wikia is a free-to-use site that makes money from advertising. We have a modified experience for viewers using ad blockers

Wikia is not accessible if you've made further modifications. Remove the custom ad blocker rule(s) and the page will load as expected.