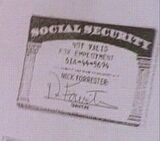 In
Close Call
,
Nick Knight
's partner,
Don Schanke
became suspicious of his odd behaviour and decided to investigate him. In the glove compartment of
the Caddy
, he found an old driver's licence that had Nick's picture on it; but it was a New York permit from the 1950s issued to "Nicholas Forrester". Schanke decided to find out more about Forrester, and received photocopied documents from the United States. These included a copy of Nicholas Forrester's Social Security card.
The card has the following information:
Nicholas Forrester's name and signature.
The number: 51A-44-5694.
The card was not valid for employment.
Ad blocker interference detected!
Wikia is a free-to-use site that makes money from advertising. We have a modified experience for viewers using ad blockers

Wikia is not accessible if you've made further modifications. Remove the custom ad blocker rule(s) and the page will load as expected.