From two different episodes of Forever Knight, we know that Nick not only used to live in the United States, but that he travelled abroad using at least two different United States passports under different names.
In the episode "1966", Nick Knight travelled to East Germany, then part of the Communist Bloc, in an attempt to locate a book of magic called the Abarat that he believed held a cure for vampirism. The son of the chief librarian at State Archive No. 7, the location of the book, discovered Nick searching the stacks and identified him by examining Nick's passport.
In "Close Call", Schanke found an old New York driver's permit in Nick's car. It bore Nick's picture, but was made out in the name of Nicholas Forrester. Schanke therefore made a request for information about this "Forrester". Among other documents, he received a photocopy of a US passport.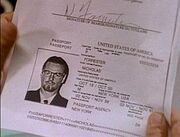 The photocopy that Schanke received indicates that Nick was travelling using a United States passport in the mid 50s. The following information is entered on the document that was copied:
He was using the name Nicholas Forrester.
His date of birth was given as Oct 13 /Oct 50. (If this means 13 October 1950, then there obviously has to be an error, since the date of issue was 1956.)
The date of issue was 02 Nov / Nov 56 (presumably 2 November 1956). The passport was issued by the Passport Agency, New York.
The expiry date seems to be 02 Nov / Nov 61, but the year is a little unclear because Schanke's finger is in the way.
At the bottom of the passport are two rows of code, which say:
F<USAFORRESTER<111<<NICHOLAS<<<<<<<<<<<<<<<<<<
0320232288USA5011140M9611021845<<<<<<<<<<<<<<<
Near the top of the passport, on the right hand side, is the number 032023224.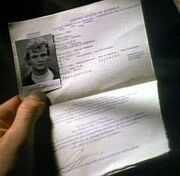 In the mid 60s, Nick was once again travelling using a United States passport. Although not all the details can be made out, the following information is entered on the document:
He was using the name Nicholas Thomas.
His date of birth seems to be given as x9/05/35. There is a smudged number in front of the nine. Given the United States practice of listing the month before the day when listing calender dates, this is probably a zero. Nick's supposed birth date would therefore be 5 September 1935. This means that, when he went to East Berlin in 1966, Nick was passing for 31 years old.
The passport was issued on 10/04/64 (4 October 1964).
Ad blocker interference detected!
Wikia is a free-to-use site that makes money from advertising. We have a modified experience for viewers using ad blockers

Wikia is not accessible if you've made further modifications. Remove the custom ad blocker rule(s) and the page will load as expected.