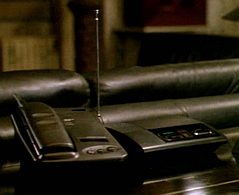 Besides having a cell phone which he carries with him, Nick has a conventional land line in his apartment. The telephone is located on a small table placed behind the couch that he has in front of the fireplace. An answering machine is beside the phone. Nick's usual recorded message is, "This is Nick Knight. I'm either incommunicado or I'm asleep."
Although Nick usually answers the phone when he's home, there are occasions when he simply listens to the message being recorded by the caller instead of picking up. In Dark Knight, for example, Natalie exhorted him to try to eat something solid just as he was, in fact, frying a hamburger in the kitchen.
Ad blocker interference detected!
Wikia is a free-to-use site that makes money from advertising. We have a modified experience for viewers using ad blockers

Wikia is not accessible if you've made further modifications. Remove the custom ad blocker rule(s) and the page will load as expected.