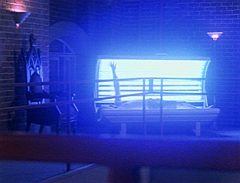 On the upper level of the loft, Nick Knight keeps a sunbed. Dr. Natalie Lambert has instructed him to use it regularly in order to increase his tolerance for sunlight, to which vampires are allergic. Nick was seen using the sunbed at the beginning of "Killer Instinct". Later in the episode, after he had been framed for murder, his apartment was searched by several police officers under the supervision of detectives from Internal Affairs. His partner, Don Schanke, who was familiar with Nick's allergy, was confounded to learn that he kept a sunbed.
Ad blocker interference detected!
Wikia is a free-to-use site that makes money from advertising. We have a modified experience for viewers using ad blockers

Wikia is not accessible if you've made further modifications. Remove the custom ad blocker rule(s) and the page will load as expected.