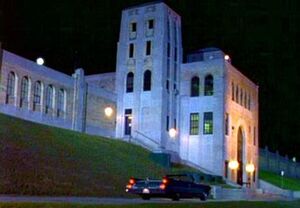 The
Oak Ridge Asylum
in
Trophy Girl
is a secure facility for the criminally insane. It is based on the Mental Health Centre Penetanguishene (or, more accurately, the Oak Ridge Division). However, the interior scenes were actually filmed on a set in the studio and the exterior scenes were shot on location at the
R. C. Harris Water Treatment Plant
.
Mental Health Centre Penetanguishene
Edit
In 1859, the Boys' Reformatory of Upper Canada was established in Penetanguishene, initially in a decommissioned military barracks. The reformatory was closed in 1904, and the facility converted into a mental asylum. In 1933, the first four wards of the Oak Ridge Division were constructed to provide custodial care to the criminally insane. At that time, Oak Ridge was the only institution of its kind in Canada. Patients were rarely moved on or released; so a second four wards were added in the 1950s bringing the patient capacity to 300. Two additional buildings were added to the facility in 1967. (The lower floor of the Brebeuf Building now houses the Forensic Services Program.) In 1971 the name of the institution was changed to the Mental Health Centre.
In Forever Knight, one of the most notorious prisoners at Oak Ridge is Christopher Scheer, a serial killer nicknamed "the Mortician" who makes even the hardened prison staff nervous. In "Trophy Girl", a woman's corpse is found with the head and hands removed with surgical precision. This resembles Scheer's M.O.; and, although the killer cannot have been Scheer (since he had long since been locked up), Nick decides to go to Oak Ridge and interview him in the hope that he may have some insight into motivation that would prove of assistance.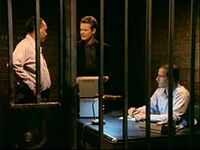 Once at Oak Ridge, Nick has to pass the guard station and surrender his weapon. One of the guards takes him along to Scheer's cell, though he says that he doesn't believe that the prisoner will agree to talk.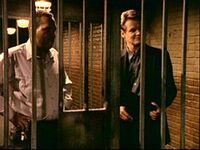 Oak Ridge is an older facility, with brown brick walls. There are ceiling lights, which appear to have been placed in cages to prevent them being broken. The cells have open bars on the corridor side, with barred doors. Their walls are also of brown brick; but they do have small high barred windows.
The guard initially refuses to allow Nick into Scheer's cell, until Nick has him agree under hypnosis. Scheer then agrees to talk to Nick, provided there is a quid pro quo. He has been an allowed a computer in his cell; but the warden has cut off his Internet access. Nick agrees to get this restored in return for Scheer's insights into the motivation of serial killers.
Ad blocker interference detected!
Wikia is a free-to-use site that makes money from advertising. We have a modified experience for viewers using ad blockers

Wikia is not accessible if you've made further modifications. Remove the custom ad blocker rule(s) and the page will load as expected.