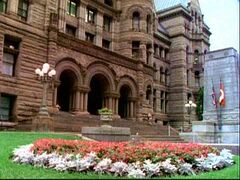 Much of the episode "Blackwing" involves a court case—a land claim by the Mississauga Indians. They have instituted the case in the belief that their leader, Gary Blackwing, has located the crucial piece of evidence to back their claim: the actual treaty that the tribe had signed with the British government in the late eighteenth century. However, the fact that no one else has seen it (and it cannot be found after Blackwing's death) is a serious blow to their case.
To drive this home, there is a scene in court. An establishing shot makes it clear that this is held in a room in Toronto's Old City Hall.
The so-called "Old" City Hall is actually Toronto's third. It was designed by Edward James Lennox from 1886 to 1888, and finally completed in 1899. It was not only the biggest structure in the city at that time, it was also the largest municipal building in North America. From the start, the building was used not only as the City Hall but also as a court house. The building is in the Romanesque Revival style, and built mostly of local stone from the Credit Valley. Above the main entrance are grotesque stone carvings, which contemporaries suggested were caricatures of councillors.
The Old City Hall is located on Queen Street West, on the east side of the corner of Bay Street—next door to the new City Hall (Toronto's fourth, and the one currently in use), which is on the west side of the intersection.
Following the opening of the new City Hall in 1965, Old City Hall was threatened with demolition. It was saved by a group of concerned citizens. Currently the building is leased by the provincial government for use as a court house for the Ontario Court of Justice. Its appearance in "Blackwing" is therefore entirely appropriate: it would indeed be the likely location for the hearings on the land claim.
Ad blocker interference detected!
Wikia is a free-to-use site that makes money from advertising. We have a modified experience for viewers using ad blockers

Wikia is not accessible if you've made further modifications. Remove the custom ad blocker rule(s) and the page will load as expected.