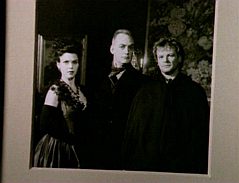 In Close Call, when Schanke got curious about Nick's odd behaviour, he went to the Raven to see if he could find out something from Janette. Since she wasn't around, he started searching the back room, where (among other things) he discovered a very old, framed photograph of Nick, LaCroix, and Janette dressed in nineteenth century clothing. Although Janette explained that these were pictures of their grandparents, and hypnotized him to be satisfied with this, her influence wore off—at least to the point where his suspicions were intensified. However, when he went to CERK and confronted LaCroix, the vampire influenced him into dropping the investigation.
Ad blocker interference detected!
Wikia is a free-to-use site that makes money from advertising. We have a modified experience for viewers using ad blockers

Wikia is not accessible if you've made further modifications. Remove the custom ad blocker rule(s) and the page will load as expected.