In the episode "Trophy Girl", the fictional Palomar Agency is an upscale escort service run by Ingrid Marr. The headless handless corpse of a woman is identified by Dr. Lambert as having been Deena Ellis, who had worked for the Palomar Agency. It had been Ingrid Marr who had reported her missing.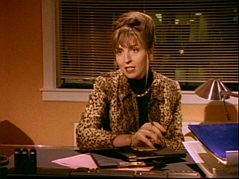 When Det. Nick Knight interviews Marr, he finds her very defensive about the "innocence" of the work done by her employees—protesting too much, in his view. Thinking that the agency might be connected to Ellis's death, his partner, Tracy Vetter decides on an unauthorized undercover operation. She applies for work at the Palomar Agency, and is hired by Ingrid Marr.
On her first assignment, she is kidnapped by the murderer, who has been secretly observing the Agency from a building across the street, selecting his next victim. Tracy manages to free herself, however, and shoots the killer.
Ad blocker interference detected!
Wikia is a free-to-use site that makes money from advertising. We have a modified experience for viewers using ad blockers

Wikia is not accessible if you've made further modifications. Remove the custom ad blocker rule(s) and the page will load as expected.