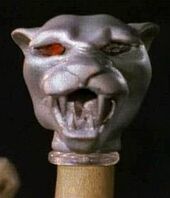 A cane with a fancy handle shaped like the head of a panther is carried by Christian, the hero of Emily Weiss's novel, The Denied.
In Stranger than Fiction, Weiss comes to Toronto on a publicity tour. She is attacked after giving a reading from her book; and Nick Knight and his partner, Don Schanke, are assigned to provide her with protection. She is placed in a safe house; but Nick is concerned that her stalker may be a vampire. Weiss's books describe vampires in a fashion that is very close to reality, and their community considers her a danger.
When a police officer on guard outside the safe house is also attacked, Nick searches the area and finds a red jewel in a drain. Examination shows that it is made of cut glass. When Nick sees a panther-headed cane at the site of Weiss's next reading, and notices that one of its red glass eyes is missing, he knows that the stalker must be in the building. It is not, however, a vampire. Rather it is an obsessed fan, Andrew, who is sure that the description of the hero in the book actually refers to him, and that Weiss is in love with him. He has therefore had a cane made to resemble the one carried by her hero.
Ad blocker interference detected!
Wikia is a free-to-use site that makes money from advertising. We have a modified experience for viewers using ad blockers

Wikia is not accessible if you've made further modifications. Remove the custom ad blocker rule(s) and the page will load as expected.