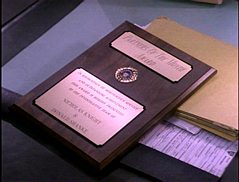 In the episode Partners of the Month, Nick Knight's partner, Don Schanke is upset that—despite their fine record of arrests—their abilities have never been honoured with the Metropolitan Toronto Police Force's service award, the Partners of the Month plaque. It particularly annoys him that another pair of detectives have won the award twice.
The events of the episode test their friendship, as Schanke quarrels with his wife and moves in with Nick. He then adds insult to injury by complaining about Nick's propensity for rushing to make the arrest at the end of every case, ignoring Schanke's contribution to the team. Of course, Nick then lets Schanke make the arrest in their current case; and, at the end of the episode, the two of them do win the coveted award.
The inscription on the plaque reads:
In recognition of meritorious service and outstanding achievement this award is hereby presented to the investigative team of Nicholas Knight & Donald Shanke.
The misspelling of his name infuriated Schanke.
The plaque appears in several later episodes:
In The Code, Schanke shows it to his old friend and former partner, Patrick Delehanty, when he visits Toronto.
In Black Buddha Pt. 1, Nick clears out Schanke's desk after his death, and finds the plaque in one of the drawers.
In Black Buddha Pt. 2, Nick lays the plaque on Schanke's grave.
Ad blocker interference detected!
Wikia is a free-to-use site that makes money from advertising. We have a modified experience for viewers using ad blockers

Wikia is not accessible if you've made further modifications. Remove the custom ad blocker rule(s) and the page will load as expected.