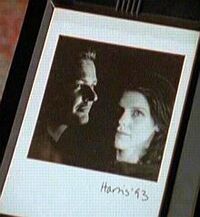 In The Human Factor, Nick Knight's partner, Det. Tracy Vetter is shown a framed photograph of Nick Knight and Janette.
Tracy has gone to Uxbridge to talk to Patrick McDonagh, the son of a murdered arson investigator from Montreal, in the hope that he may be able to shed some light on the murder in Toronto of one of his father's colleagues. Patrick has been brought to Toronto by Janette, who became his guardian after his father's death. However, Janette has left him visiting his aunt in Uxbridge. She is not staying there herself. To assist Tracy, Patrick therefore shows her a treasured photograph of his guardian.
The photograph is a rather artistically posed studio print, signed and dated, "Harris '93". With Janette in the photograph is a man whom Patrick says is her brother, Nick. Tracy immediately recognizes Janette as the suspect in the murder case she is investigating. She also recognizes Patrick's "Uncle Nick" to be her own partner, Nick Knight.
Tracy borrows the picture, and later shows it to Dr. Lambert—who immediately assures Tracy that the man in the picture cannot be Nick, since he has no family.
Ad blocker interference detected!
Wikia is a free-to-use site that makes money from advertising. We have a modified experience for viewers using ad blockers

Wikia is not accessible if you've made further modifications. Remove the custom ad blocker rule(s) and the page will load as expected.