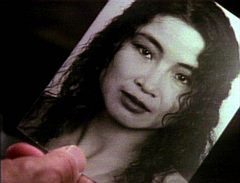 In the Season One episode "Cherry Blossoms", a photograph of Nancy Lee Young is shown to people in Toronto's Chinatown in the hope that someone will come forward with her location.
Nancy Lee Young is a witness in a criminal prosecution of Chinese gangs in Toronto. However, she disappears after her taxi is shot up; and the police must try to find her in order to keep her in protective custody. Believing that she may be injured, Det. Nick Knight shows her photograph to an elderly acupuncturist. Although he has, in fact, treated her injuries, he claims not to recognize her; but Nick does not believe him. He therefore follows him to the place where he has hidden her.
Ad blocker interference detected!
Wikia is a free-to-use site that makes money from advertising. We have a modified experience for viewers using ad blockers

Wikia is not accessible if you've made further modifications. Remove the custom ad blocker rule(s) and the page will load as expected.