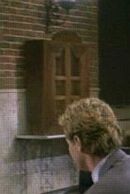 In in Season Two, Nick Knight reveals that he has in his loft a display cabinet in which he keeps a portrait of Janette that had been painted by Leonardo. Although, at the end of "Partners of the Month", he gives the portrait back to Janette, she returns it at the end of "The Human Factor". So it is quite possible that, thereafter, Nick puts the painting back into the same cabinet in which he had kept it earlier.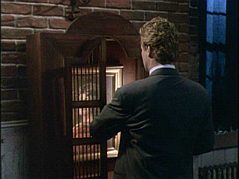 The cabinet is located on a shelf on the outer wall of the loft, between the two large windows to the right of the fireplace. It was not there in episodes prior to "Partners of the Month"; but, of course, it is possible either that Nick had it elsewhere in the apartment, or that he had the picture elsewhere and only recently purchased the cabinet itself.
The cabinet is about three feet tall. It is made of wood, with double doors. As soon as these are opened, a light comes on inside the cabinet, so that the picture inside is illuminated. The light is visible between the slats, indicating that the doors are not solid, but made of numerous narrow vertical bars of wood.
Ad blocker interference detected!
Wikia is a free-to-use site that makes money from advertising. We have a modified experience for viewers using ad blockers

Wikia is not accessible if you've made further modifications. Remove the custom ad blocker rule(s) and the page will load as expected.