The Police Special is a weekly journal popular with some people in law enforcment, most particularly Nick Knight's partner, Don Schanke, who has a subscription. Sadly, it always arrives late; and, since he can't bear to wait, he generally buys a copy at the news stand—leaving him with two.
In Hunters, Schanke's subscription copy of the journal arrives at the station just before he is told to go into protective custody. He is reading it when the motel is blown up, and the police officer guarding him is killed.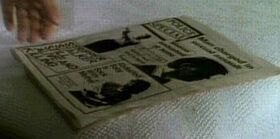 Nick persuades Janette to let Schanke hide out at the Raven; but, after a day incommunicado, Schanke is suffering withdrawal pangs. He sneaks out of the club to go to a nearby news stand in order to buy himself another copy of Police Special. In the personal ads, he discovers one addressed to himself. It has been placed by the murderer, and poses a threat to Schanke's family that makes him decide to rendezvous with the killer.
Ad blocker interference detected!
Wikia is a free-to-use site that makes money from advertising. We have a modified experience for viewers using ad blockers

Wikia is not accessible if you've made further modifications. Remove the custom ad blocker rule(s) and the page will load as expected.