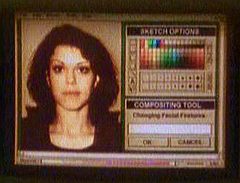 In "The Human Factor", a police artist uses a sketch compositing computer program to produce an image of the suspect in a homicide investigation.
When Mario Larouche, an arson investigator from Montreal, is murdered in a motel in Toronto, there is a witness—a woman whom he had picked up, who saw the probable killer leaving the room. However, although she has a clear idea of the appearance of the murderer, it requires a police artist to consult with her in the production of an actual sketch of the suspect suitable for showing to people who may be able to identify the face.
The Sketch Compositing Program
Edit
On the left side of the computer screen is a large picture of the face that is being composited. In this case, the result of the process is a woman's face with features strongly resembling those of Janette DuCharme.
On the right side of the computer screen are various buttons that the police artist can use to adjust and modify the face on the left.
The top half has a large box labelled "Sketch Options".

Directly under this label is a colour array.
There are vertical columns of buttons left and right, and a double row of buttons underneath. The resolution is not good enough to make out the labelling of the buttons.

The lower half has a second large box, which is labelled "Compositing Tool".

Directly under this label is an entry box labelled "Changing Facial Features".
Below this are two buttons, labelled "OK" and "Cancel".
Ad blocker interference detected!
Wikia is a free-to-use site that makes money from advertising. We have a modified experience for viewers using ad blockers

Wikia is not accessible if you've made further modifications. Remove the custom ad blocker rule(s) and the page will load as expected.