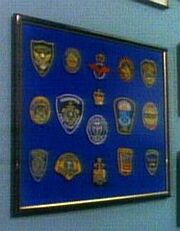 In both the 27th Precinct and 96th Precinct police stations, the Captain's office has a display of badges from other precincts. In the real world, this is a common feature in most police precincts, intended to show a sort of "brotherhood" among officers.
The badges are arrayed on a royal blue background, and set in a picture frame with glass.
Although there are no really good images of the display at the 96th Precinct, it is obvious that it includes significantly more badges than the one at the 27th Precinct.
This indicates that there was a change in the props that were used when the new set was dressed for Season Two.
At the 27th Precinct, the display of precinct badges is located on the wall to the left, as you enter Captain Stonetree's office. It is surrounded by various certificates that he has earned.
At the 96th Precinct, the display of precinct badges is located to the left of the Captain's desk, on the outer wall, so that it faces anyone who enters the room. This position did not change when Captain Reese took over the precinct.
Ad blocker interference detected!
Wikia is a free-to-use site that makes money from advertising. We have a modified experience for viewers using ad blockers

Wikia is not accessible if you've made further modifications. Remove the custom ad blocker rule(s) and the page will load as expected.