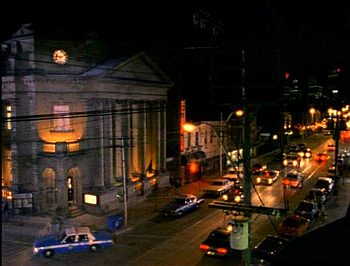 Queen Street is a major east-west thoroughfare in downtown Toronto. It is divided at Yonge Street into an eastern branch, Queen Street East, and a western branch, Queen Street West.
In Forever Knight, the 96th Precinct police station is situated on Queen Street West close to the intersection with Spadina Avenue.[1] In fact, the Toronto Public Library building used for exterior location shots is actually located on Queen Street, at the intersection of Queen Street East and Saulter Street.
History of Queen Street
Edit
The street was originally surveyed in 1793 by Sir Alexander Aitkin, commissioned by Lieutenant Governor John Graves Simcoe. For its first sixty years, many sections were referred to as Lot Street, but in 1851 it was renamed for Queen Victoria.
Since the nineteenth century, Queen Street West at Yonge Street has been one of Toronto's primary shopping districts. Originally, the Eaton's and Simpson's department stores faced each other across Queen Street, with the rivalry between the two stores at one time as central to Toronto retailing as the Macy's/Gimbel's competition was in New York City. Today, the Toronto Eaton Centre still remains at the same location on the north-west corner of the intersection; and the historic Simpson's department store building remains on the south-west corner, though it is now owned by the Hudson's Bay Company.
Further west, this stretch of Queen Street is dominated by institutional and cultural buildings such as Old City Hall, Toronto City Hall, and Osgoode Hall.
Public transit on Queen Street
Edit
The 501 Queen streetcar is one of the TTC's busiest and longest streetcar routes; it runs every six minutes in each direction. Passengers can transfer to the subway system at Queen Station at Yonge Street, and at Osgoode Station at University Avenue: in both cases it is necessary to use a transfer, since there is no direct interchange.
Adapted from the Wikipedia article on Queen Street West.
List of References
Edit
Ad blocker interference detected!
Wikia is a free-to-use site that makes money from advertising. We have a modified experience for viewers using ad blockers

Wikia is not accessible if you've made further modifications. Remove the custom ad blocker rule(s) and the page will load as expected.