In "Trophy Girl", the R. C. Harris Water Treatment Plant stood in for the exterior of the Mental Health Centre Penetanguishene, referred to in the episode as Oak Ridge Asylum. The serial killer Christopher Scheer was locked up in Oak Ridge; and Det. Nick Knight went there in the hope that talking to him would provide insight into the motivation of another murderer with a similar modus operandi. In one of the two exterior shots, Nick's car is being driven towards the building; in the second, a different car drives past it in the opposite direction.
R. C. Harris Water Treatment Plant
Edit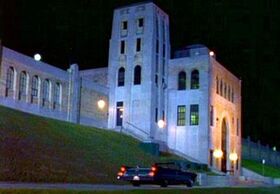 The R. C. Harris Water Treatment Plant is located in the eastern part of Toronto by the shore of Lake Ontario. It was named after Rowland Caldwell Harris, who was Commissioner of Works for the former City of Toronto from 1912 to 1945. The plant was built between 1932 and 1941 in the Art Deco style, and has marble entryways and halls that are filled with pools of water and filtration equipment. It provides approximately 45% of the water supply for Toronto and the Region of York using two intake pipes whose far ends are located over 2.6 kilometres (1.6 mi) from shore. The plant is frequently used as a film location.
Ad blocker interference detected!
Wikia is a free-to-use site that makes money from advertising. We have a modified experience for viewers using ad blockers

Wikia is not accessible if you've made further modifications. Remove the custom ad blocker rule(s) and the page will load as expected.