In "Unreality TV", A lead takes Det. Don Schanke to the Rainbow Motel. It is a cheap, one-storey drive-in motel—the type of place that asks few questions.
As it is day time, Schanke has to go without his partner,
Nick Knight
; but that does not mean that he goes alone.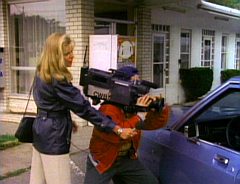 With him, he has to tow around a film crew from
Cop Watch
, a reality television show that follows police officers around while they are on duty. The host of the series,
Tawny Teller
, interviews Schanke outside the motel.
Ad blocker interference detected!
Wikia is a free-to-use site that makes money from advertising. We have a modified experience for viewers using ad blockers

Wikia is not accessible if you've made further modifications. Remove the custom ad blocker rule(s) and the page will load as expected.