Raven's Cellar
Focus
Tracy/Miklos
Type of Faction
joke couple faction
Status
inactive/defunct

Faction icon, created by Greer Watson in 2012.
For a list of members of this faction, please see Category:Raven's Cellar.

The Raven's Cellar are fans who see a potential relationship between Tracy Vetter and Miklos. The faction began on the Dark Perkulators' mailing list, and can be considered a short-lived, somewhat tongue-in-cheek offshoot of that affiliation.
Oded Fehr
Edit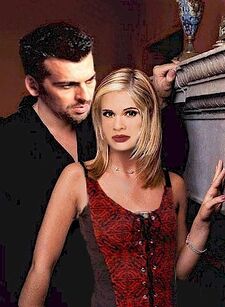 Some fan art was included on the Raven's Cellar website, especially a large picture on the intro page. However, another actor was substituted for Earl Pastko, who had played Miklos in the series. Oded Fehr had appeared in The Mummy and The Mummy Returns; and a number of fans considered him to be appropriately cast in the role. A joke faction, the Tattooed Desert Dude Appreciation Society (a/k/a the Tattooed Desert Guy Appreciation Society), was created in his honour.
Faction Websites
Edit
See also:
Edit
Ad blocker interference detected!
Wikia is a free-to-use site that makes money from advertising. We have a modified experience for viewers using ad blockers

Wikia is not accessible if you've made further modifications. Remove the custom ad blocker rule(s) and the page will load as expected.