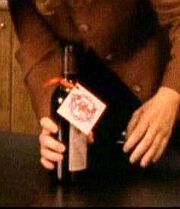 In Night in Question, when LaCroix gives a bottle of human blood to an amnesiac Nick Knight, he dresses up the present with a gift tag. And, as the proprietor of the Raven, the tag that LaCroix uses is one that figures the logo of his night club.
The tag is off white, with the logo in red. This is the same logo that appears on the Raven coaster (not the earlier one that is on the Raven matchbook).
Like most gift tags, the Raven tag has a small hole in the upper left corner. Through this, a narrow red ribbon has been threaded. LaCroix ties this ribbon around the neck of the bottle in a small bow.
Ad blocker interference detected!
Wikia is a free-to-use site that makes money from advertising. We have a modified experience for viewers using ad blockers

Wikia is not accessible if you've made further modifications. Remove the custom ad blocker rule(s) and the page will load as expected.