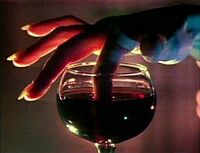 Ribena™ is a brand of concentrated sweetened blackcurrant juice, which (in the real world) is normally diluted with water to make a fruit drink. Ready-diluted Ribena™ is also available in Britain in individual drink boxes. Although there are other manufacturers, the popularity of Ribena™ is such that the brand name is commonly used in Britain for all blackcurrant drinks.
Ribena for Blood
Edit
During the production of Forever Knight, Ribena™ was used to simulate blood—although it should be added that the colour of the concentrate is actually a dark translucent purplish red, rather than the bright colour of oxygenated blood.
The product was left undiluted—in which form it is exceedingly sweet—so that it would approximate the consistency of fresh blood. However, it often made the actors sick in this form.
Availablility
Edit
Ribena is readily available in supermarkets in many other countries besides Britain (including Canada, (list)).
In the U.S., Ribena is often available in Oriental markets, specifically grocery stores catering to immigrants from Hong Kong or Malaysia. One brand to look for is by Smith-Kline Beacham, in Brentford, Middlesex, England, which use the Ribena trademark under license. Their exclusive supplier is The Gilway Company, Ltd., 299 Forest Ave., Paramus, NJ 07652. They sell a 32 oz. and 16 oz. bottle, both in concentrated form (with a new non-drip cap). The following appears on the label: [Her Majesty's Official Seal] By appointment to Her Majesty The Queen, Suppliers of Lucozade and Shloer, Beechamn Products, Brentford, Middlesex.
Labelling
Edit
The ingredients on the U.S. label are as follows: Water, sugar, black currant juice, glucose syrup, citric acid, vitamins (C, Niacin, B6, B12), preservatives (sodium benzoate, sodium metabisulfite), natural color (grapeskin color).
Nutritional Information per Serving:

Serving size 3T or 1.5 fl.oz.
Servings per container 21
Calories 140
Protein 0
Carbohydrates 35g
Fat 0
Sodium 15mg

Percentage of U.S. Recommended Daily Allowance (RDA): Vitamin C 100%, Vitamin B12 34%, Niacin 31%, Vitamin B6 33%, Contains less than 2% of the US RDA of Protein, Vitamin A, thiamine, Riboflavin, Calcium, and Iron.
There's also a warning notice which states:
"Important Ribena should always be given to babies and children in diluted form, never undiluted in a bottle. For young children, always dilute with at least 6 parts of water."
Ad blocker interference detected!
Wikia is a free-to-use site that makes money from advertising. We have a modified experience for viewers using ad blockers

Wikia is not accessible if you've made further modifications. Remove the custom ad blocker rule(s) and the page will load as expected.