The Royal Astor Hotel is a luxury downtown hotel catering to such clients as the rock star Rebecca, who stays in the penthouse suite under an alias when her band plays Toronto in the episode "Dying for Fame".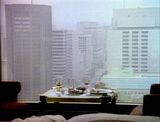 After Rebecca leaves for a sound check, the cleaner is able to enter her room, and discovers a dead man lying in the bed. Nick Knight and Don Schanke, the detectives assigned to the case, are so unfamiliar with the contemporary rock scene that they do not at first realize who was staying there.
The information provided by the staff does not indicate who had committed the crime; but Rebecca is eventually placed under arrest. It appears at first that this closes the case. However, Polaroid photographs are later provided anonymously to the police; and Nick decides to return to the hotel room and search it again. There, he discovers a platinum wig matching one that is being worn by a woman in the photographs. Properly analysed, the new evidence gives Rebecca an alibi.
Ad blocker interference detected!
Wikia is a free-to-use site that makes money from advertising. We have a modified experience for viewers using ad blockers

Wikia is not accessible if you've made further modifications. Remove the custom ad blocker rule(s) and the page will load as expected.