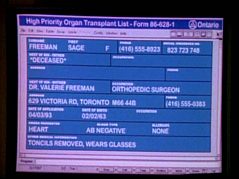 In Let No Man Tear Asunder, Nick is investigating the black market in organs for transplant. He therefore accesses the High Priority Organ Transplant List to see who may be in the market for a stolen organ. From the list of patients, he picks out Sage Freeman and looks at her records specifically.
At the top of the form is a caption that reads, High Priority Organ Transplant List - Form 86-628-1, plus the name of the province (Ontario) on the right, along with the stylized trillium flower that is the provincial symbol.
Sage's records include the following information:
Phone: (416) 555-8923
Social Insurance Number: 823 723 748
Next of kin (father): *Deceased* (Father's professsion, address, and phone are left blank.)
Next of kin (mother): Dr. Valerie Freeman

Profession: Orthopedic surgeon
Address: 629 Victoria Rd, Toronto M66 44B
Phone: (416) 555-0383

Organ requested: heart
Date of application: 04/03/93
Date of birth: 02/02/63
Occupation: (left blank)
Blood type: AB Negative
Allergies: none
Other medical information: Toncils (sic) removed, wears glasses.
It should be noted that the format for Sage's record is not quite the same as that for Sonny Vetter's organ transplant records, which are accessed by Tracy Vetter in an earlier scene in the same episode. The captions provide a partial explanation: whereas Nick is accessing Sage's record from the provincial High Priority Organ Transplant List, Tracy accessed her uncle's records from the national list. However, the forms are remarkably similar in terms of layout, with one exception. The record form used for Sage includes spaces for each of her parents' names, professions, addresses, and telephone numbers to be recorded. Sonny Vetter's form does not include a place for any next of kin.
Ad blocker interference detected!
Wikia is a free-to-use site that makes money from advertising. We have a modified experience for viewers using ad blockers

Wikia is not accessible if you've made further modifications. Remove the custom ad blocker rule(s) and the page will load as expected.