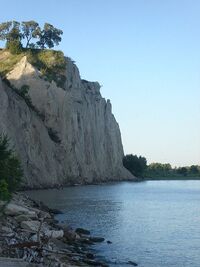 The Scarborough Bluffs are an escarpment in the eastern part of Toronto, running along the shoreline of Lake Ontario.

In the flashback to the episode "Forward Into the Past", Nick is told by Detective Norton that Katherine Barrington's late husband, Gordon, had died in a car accident because he was driving too fast. His body was found in the car at the bottom of the Scarborough Bluffs.
The line of the Scarborough Bluffs follows the old shoreline of Lake Iroquois, which was formed in the last ice age. The ice sheet blocked the St. Lawrence River (which currently drains the Great Lakes), and Lake Iroquois emptied into a channel to the southeast.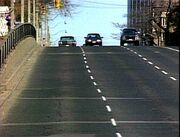 As the glaciers retreated, the ice dam melted. The water level dropped sharply to the level of the present-day
Lake Ontario
.
Over time, eroded alluvial deposits from the Bluffs have settled westward to form the Toronto Islands.
The bluffs run along the shore for 14 kilometres (8.7 miles), reaching as high as 65 metres (210 feet), which is the equivalent of seventeen storeys. At the western end, the escarpment continues inland, where it becomes a steep hill—in fact, the same hill down which Schanke loses control of Nick's car in "Dark Knight: The Second Chapter".
Ad blocker interference detected!
Wikia is a free-to-use site that makes money from advertising. We have a modified experience for viewers using ad blockers

Wikia is not accessible if you've made further modifications. Remove the custom ad blocker rule(s) and the page will load as expected.