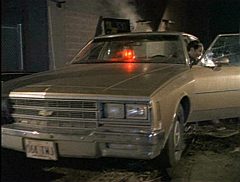 In most episodes of Forever Knight, Det. Nick Knight and his partner, Don Schanke use Nick's car when driving around Toronto investigating the cases to which they have been assigned. And Nick drives. However, Schanke certainly owns a car: he drives it to work and parks it in the lot beside the 96th Precinct police station, before transferring to Nick's car for the shift.
We see Schanke's car in the Season Two premiere, "Killer Instinct", shortly after the two detectives have been reassigned. He decides to come in to work on his day off in the hope of impressing their new boss, Captain Cohen.
The licence number of Schanke's car is 064 TWJ. In the photo above, it appears to be an early 1980's Chevrolet Impala. This is visible due to the Chevrolet symbol on the front grill, close-to-grill side markers; similar to the 80's Caprice model.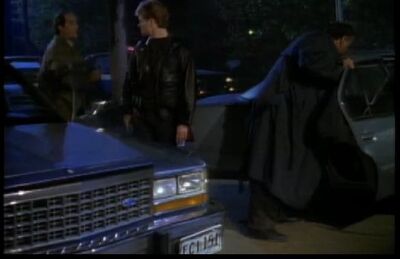 Other times he drove a blue Ford Crown Victoria with the licence plate number FC1 151.
Ad blocker interference detected!
Wikia is a free-to-use site that makes money from advertising. We have a modified experience for viewers using ad blockers

Wikia is not accessible if you've made further modifications. Remove the custom ad blocker rule(s) and the page will load as expected.