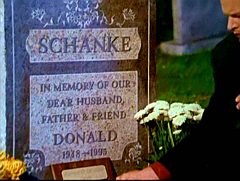 For two seasons, Don Schanke was a loyal partner to Det. Nick Knight, first at the 27th Precinct and then at the 96th. However, in the Season Three premiere, Black Buddha Pt. 1, he and their commanding officer, Captain Cohen, were on a plane taking an extradited prisoner to Calgary when it was blown up by a bomb. Both were killed. After the case was concluded, Nick visited Schanke's grave.
The headstone gives Schanke's year of birth as 1948. He died in 1995 at the age of 47.
Ad blocker interference detected!
Wikia is a free-to-use site that makes money from advertising. We have a modified experience for viewers using ad blockers

Wikia is not accessible if you've made further modifications. Remove the custom ad blocker rule(s) and the page will load as expected.