In the episode "Trophy Girl", the fictional Sedrick Brokerage firm is a cover for a serial killer. It is located immediately opposite the building that houses the Palomar Agency, an escort service whose female employees are targeted by the killer as potential victims. The Estates Division of the brokerage is also of use to him. He is able to use one of the vacant houses as his murder headquarters, keeping his captives prisoner there until he murders and dismembers them.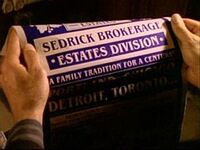 When Tracy Vetter goes undercover at the Palomar Agency and disappears, Nick goes to the escort service hoping to find a lead to her whereabouts. As he looks out of the window, he spots a telescope in one of the windows of the building opposite, and guesses what the killer has been doing. Going to the office whose window has the telescope, he finds the Sedrick Brokerage. He thus is able to identify the house where Tracy is being held prisoner.
Ad blocker interference detected!
Wikia is a free-to-use site that makes money from advertising. We have a modified experience for viewers using ad blockers

Wikia is not accessible if you've made further modifications. Remove the custom ad blocker rule(s) and the page will load as expected.