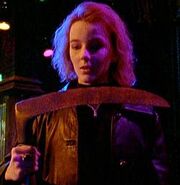 Twenty years after the eruption of Pompeii, Lucien LaCroix beheaded his daughter Divia with a bronze sickle and placed her in a sarcophagus in an Egyptian tomb. Somehow her head reattached itself; and she survived burial for the next two millennia. She was accidentally released by a tomb robber, and promptly traced LaCroix to Toronto, whither she followed him. Seeking revenge, she attacked his associates and his son, Nick Knight, before confronting him in the Raven. Having subdued him, she then produced the sickle. As she toyed with it, debating aloud whether to kill him or leave him to suffer, she was staked by Nick.
Ad blocker interference detected!
Wikia is a free-to-use site that makes money from advertising. We have a modified experience for viewers using ad blockers

Wikia is not accessible if you've made further modifications. Remove the custom ad blocker rule(s) and the page will load as expected.