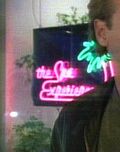 In
"If Looks Could Kill"
,
The Spa Experience
is the name of a fictional health club. An instructor at the club is killed in a department store after going berserk at one of the cosmetics counters.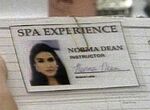 From an identity card in her purse,
Det. Nick Knight
and his partner
Don Schanke
identify her as
Norma Dean
. One of the first steps in their investigation takes them to the club.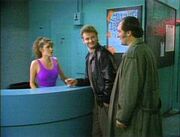 Outside, Spa Experience has an unprepossessing show window with a trashy-looking large neon sign in hot pink and lime green.
Once inside, the first impression is also less than ritzy. The lobby area is rather empty-looking, with a very plain front desk, beside which are a couple of functional cork boards. The walls and front desk are both painted turquoise. It is a different matter in the working areas of the health club, which seem well equipped. There is a work-out room with plenty of equipment, and a large attractive pool.
Besides these common areas, there are offices for the staff. One of these is Dr. Jurgen, who includes Norma Dean among her patients. She has been away; and her other patients urgently await her return. When she does, Nick realizes that she is a vampire. She has been giving her patients injections of her blood; and their odd behaviour has been the result of her failure to administer their next dose on time.
Ad blocker interference detected!
Wikia is a free-to-use site that makes money from advertising. We have a modified experience for viewers using ad blockers

Wikia is not accessible if you've made further modifications. Remove the custom ad blocker rule(s) and the page will load as expected.