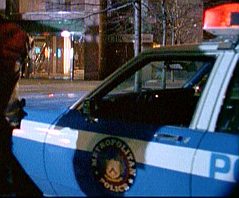 Although as a detective, Nick Knight drives his own car at work, many episodes feature the squad cars driven by uniformed police officers, since they are the usual first responders to the crime scene and keep it secure from interference by onlookers.
The squad cars driven by the
Metropolitan Police
in
Forever Knight
are basically painted blue, except for their white roofs and trim. On the roof is a multiple light strip that runs across the full breadth of the car. This is the typical cop car light: on the left it is red, on the right it is blue, and in the centre it is white; and these flash alternately in a regular pattern.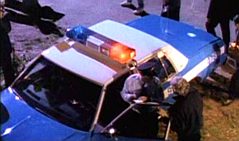 A broad white band is painted down each side of the car. On this are painted the number of the precinct to which the car is assigned, and the specific code number of the car itself. On the front door on each side of the car is painted the crest of the Metropolitan Police. This is positioned centrally, and lies partly over the longitudinal white band. The word "Police" is painted in white at the rear of the car.
Cars Used by the Actual Toronto Police Force
Edit
It should be noted that there are distinct differences between the cars used by the uniformed police in Forever Knight and those used by the police in the real Toronto. The most obvious difference, of course, is that the police cruisers used by the Toronto police have for many years been painted white, not the blue and white of the cars in the series.
In addition, in the real Toronto, police cruisers are numbered with a code that combines their division, their zone within that division, and the individual car number. For example, if a car is numbered 3124, it means that the vehicle is from 31 Division, works in Zone 2 for that division, and is car number 4 for that zone. This clearly is not the numbering system used in Forever Knight, which lists the precinct separately on the side of the cars. For example, if you look at the car in the picture, the side band gives the car's number as 6125 (at the rear of the car), but says that it is from the 96th Precinct ("PCT. 96" at the front of the car).
Ad blocker interference detected!
Wikia is a free-to-use site that makes money from advertising. We have a modified experience for viewers using ad blockers

Wikia is not accessible if you've made further modifications. Remove the custom ad blocker rule(s) and the page will load as expected.