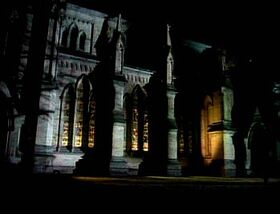 St. James Cathedral was used as a filming location for the episode "For I Have Sinned", where it was called St. John's Church. Although actually Anglican, it played the part of a Roman Catholic church where a serial killer made confession to a young priest, Father Pierre Rochefort. More formally known as the Cathedral Church of St. James, it is also the parish church for the St. Lawrence district in Toronto.
Filming for "For I Have Sinned" took place both inside and outside the cathedral. The exterior is featured in establishing shots, and a brief scene of dialogue between Nick Knight and Father Rochefort; but it appears most prominently in the scene before Nick enters the church, leaving his partner, Schanke on watch outside in his car.
Nick recoils from the religious images in the church, but discovers that he is unable to leave the church because the sun has come up. He therefore takes refuge in the dark interior of the confessional. However, some time later, his partner leaves his post to come in and speak to a priest. After hearing Schanke's confession, Nick chivies him back to his duty. Later, when it gets dark enough for him to leaves the confessional himself, he faints while arguing with Father Rochefort.
The traditional church furniture and notable stained glass can be seen in these scenes, and lend much to the atmosphere of the episode.
Behind the Scenes History
Edit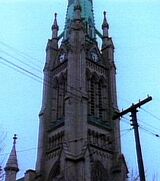 The history of St. James Cathedral dates back to 1797, when York Church was first established. A wooden church was built ten years later, and dedicated to St. James in 1828. In 1833, a stone church was built, which became a cathedral in 1939. Ten years later it burned down.
The present cathedral, in the New Gothic Revival style, was built on the original site, and opened in 1853. At that time, it consisted of the present nave and sanctuary.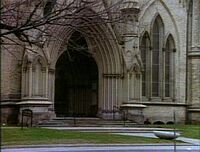 The spire, designed by William Storm, was built between 1865 and 1875. Together, the tower and spire rise 305 feet above the street. On completion of the tower, a clock was donated by the citizens of Toronto and ten carillon-style chime bells were installed.
In 1997 the cathedral celebrated its bicentenary, including the installation of a peal of twelve additional bells for change-ringing (the only such ring of twelve in Canada).
Ad blocker interference detected!
Wikia is a free-to-use site that makes money from advertising. We have a modified experience for viewers using ad blockers

Wikia is not accessible if you've made further modifications. Remove the custom ad blocker rule(s) and the page will load as expected.