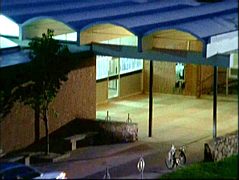 The climactic scenes of "Black Buddha, Part Two" take place at St. Patrick station on the Spadina line of the subway system run by the Toronto Transit Commission.
In the Season Three premiere, a bomber nicknamed "Vudu" is threatening Toronto. Through most of Part Two, he is engaged in a plan to plant bombs in the underground service tunnels beneath the downtown area in order to maximize the area of devastation. But he has a special plan within this: to trick a woman on the inside into carrying the most powerful of his bombs. To this end, he runs into Tracy Vetter accidentally-on-purpose at a coffee shop, picks her up, and leaves behind the bag he was carrying—a bag that Tracy then proceeds to take with her, intending to return it the next time she sees him. In fact, the bag contains a bomb.
Vudu has passed himself off to her as an engineer for the city. So when the police realize that there are bombs in the underground tunnels, it occurs to Tracy to phone him and ask for his assistance in locating them. Vudu suggests that they meet at St. Patrick Station. When Tracy arrives, he switches on the bomb, which has been built within a music box. Hearing the sound, Tracy guesses that the bomb in in the bag that she carries; but, while she is calling Captain Reese, Vudu grabs her, holding her at gunpoint until the bomb explodes. However, her vampire friend, Javier Vachon arrives and kills Vudu.
St. Patrick station is real. It is one of the stations on the Spadina branch of the subway system in Toronto, located at the intersection of University Avenue and Dundas Street—which puts it two blocks north of Queen Street, and approximately two blocks north of the 96th Precinct police station. However, the actual location used to film the scene in "Black Buddha, Part Two" is not the real subway station. Rather, it is a community centre considerably to the north east. As seen in the picture, a Toronto Transit Commission sign was placed outside the entrance to the building to give it the appearance of a subway station.
Ad blocker interference detected!
Wikia is a free-to-use site that makes money from advertising. We have a modified experience for viewers using ad blockers

Wikia is not accessible if you've made further modifications. Remove the custom ad blocker rule(s) and the page will load as expected.