"
Yeah, well, I figure if I can't beat this Winter Wonderland crap, I might as well learn how to love it.
"
 

— Schanke, The Code
When Schanke's ex-partner Delehanty shows up, his rich, comfortable, and "warm" life in Arizona, gets to Schanke's winter-worn heart. When Schanke and Delehanty conclude that a series of deaths are the result of product tampering, Nick's hunch about the case drives a wedge between him and Schanke. When Schanke refuses to listen to Nick, he must solve the case despite Schanke and Delehanty's conclusions, and before Schanke decides Arizona might be the place to be.
Guest Cast
Edit
Detailed Story Recap
Edit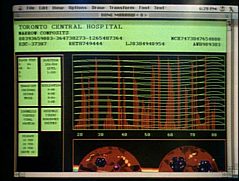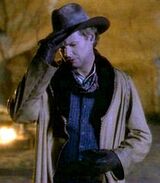 Vampire Lore
Edit
In the flashback, LaCroix tells Nick that Wade had poisoned him with Curare, and that it is lethal to humans but only intoxicating to vampires.
Fan Fiction
Edit
Nightcrawler Monologue
Edit
Tonight your Nightcrawler is ruminating on friendship. I say a friend for life is a leech, someone who bleeds you. There is no real or lasting friendship, and no one is to be trusted. Who will challenge me on this? Who does not believe that all friendships must sour, slowly, imperceptably, commenada les mains de la cloche? And in the end it's not the big lie that turns us into mortal enemies, but the little white lies that drive the wedges between us, poison our loyalty and blight our trust. Do you not agree? Let's discuss it then, friends.
Behind the Scenes
Edit
The German title for this episode is "Ein Freund fürs Leben" ("A Friend for Life").
David Nerman, who appears in this episode as Wade, also appears in the Season Three episode "Hearts of Darkness", where he plays Todd Marnecki.
Continuity
Edit
Canadian Content
Edit
In the flashback, LaCroix tells Nick that Wade had poisoned him with Curare, however, Curare is only poisonous if it gets into the bloodstream (it was used on arrows, where it got in through the open wound), if ingested orally (as Nick had), it is non-toxic as the molecules are too big to pass through the intestinal lining.
Ad blocker interference detected!
Wikia is a free-to-use site that makes money from advertising. We have a modified experience for viewers using ad blockers

Wikia is not accessible if you've made further modifications. Remove the custom ad blocker rule(s) and the page will load as expected.