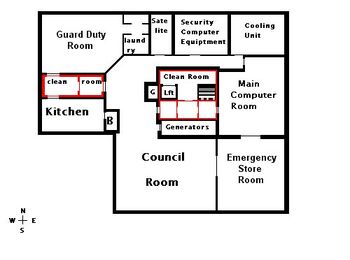 The Comfy Cottage is the virtual home of the members of the Cousins of the Knight fan faction. It is the headquarters of the faction during a War.
The Cotk faction website includes floorplans for the Comfy Cottage during Wars 10 and 11. These were drawn by Kyer en Ysh. The principal difference is the assignation of bedrooms on the second floor to the participants in each War.
The Comfy Cottage has two floors and a basement. Both stairs and a lift lead between the floors. From the perspective of conducting a War, the guts are in the basement. However, the Cottage is also set up to provide a home-from-home for the faction members on the other two floors.
Main Floor
Edit
Inside the main entrance is a reception area and a room for entertaining company. In the private areas, there are a library, a home theatre, a music room, and a craft or hobby room, as well as a small "quiet room" or private chat room. In addition, there is a kitchen (with separate freezer room and larder) and a dining room, off which is a small bar.
Second Floor
Edit
There are six bedrooms which are specifically assigned to faction members, plus a guest bedroom. A pair of large suites are set aside for LaCroix and Nick. A laundry room is indicated, but no bathrooms.
Contains the following:
council room
emergency store room
guard duty room
main computer room
security computer equipment
satellite
cooling room
laundry
kitchen
generators
Two areas are designated as "clean rooms".
Outside the Comfy Cottage is a garden. A section near the entrance is specified as a cactus garden. There also appears to be a pond on the other side of the house.
External Links
Edit
Ad blocker interference detected!
Wikia is a free-to-use site that makes money from advertising. We have a modified experience for viewers using ad blockers

Wikia is not accessible if you've made further modifications. Remove the custom ad blocker rule(s) and the page will load as expected.