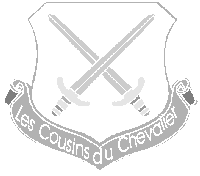 The Cousins of the Knight is the website of the Cousins of the Knight faction.
Site History
Edit
The CotK faction site was originally located at http://lavender.fortunecity.com/evildead/879/, until the disappearance of its webhosting service, FortuneCity, in 2012. The site was moved to the Forever Knight Website Archive in 2013, and can now be found at http://www.foreverknight.org/CotK/.
library
screen capture archive of pictures of Nick and LaCroix
sound capture archive
CotK pages for Wars 10 and 11, including archived War posts
floor plans for The Comfy Cottage, the faction's virtual home.
Library (Fan Fiction Archive)
Edit
The fan fiction archive on the Cousins of the Knight website includes the following stories (by author):
(off-site link, no longer active)
Le Retour de L'amour Series
Ad blocker interference detected!
Wikia is a free-to-use site that makes money from advertising. We have a modified experience for viewers using ad blockers

Wikia is not accessible if you've made further modifications. Remove the custom ad blocker rule(s) and the page will load as expected.