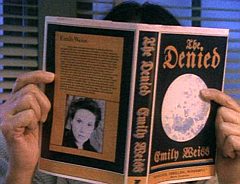 The Denied by Emily Weiss is the vampire thriller that so enthralled all the characters in the series when it debuted in Stranger than Fiction.
Not only did all its readers visualize themselves in the role of a character in the book; but the accuracy of the depiction of vampires and their lifestyle had the whole vampire community worried that Emily Weiss might out them to the mortal world. However, although LaCroix determined to force Nick to kill her, he instead used hypnosis to persuade her to bring an end to her vampire series and write about other subjects instead.
Emily Weiss's depiction of vampires is so good that her novel is one of the books consulted by Schanke in Close Call.
Ad blocker interference detected!
Wikia is a free-to-use site that makes money from advertising. We have a modified experience for viewers using ad blockers

Wikia is not accessible if you've made further modifications. Remove the custom ad blocker rule(s) and the page will load as expected.