The Fix
Talk

0
4,471pages on
this wiki
"
This whole experiment goes down the tubes if I spontaneously combust in the middle of Bay Street, doesn't it?
"
 

— Nick, The Fix
Natalie's research leads her to believe she might be able to cure Nick, if he's willing to take the risk. While taking the wonder drug, Nick and Schanke unofficially investigate the suicide of another cop.
Guest Cast
Edit
Guest Cast
Edit
Detailed Story Recap
Edit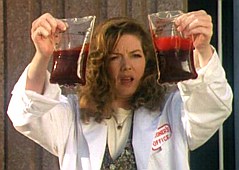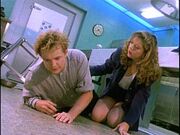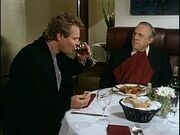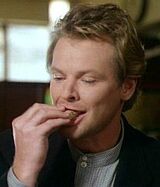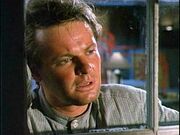 Vampire Lore
Edit
Fan Fiction
Edit
(Below is a list of fan fiction that has been inspired at least in part by this episode:)
Lacroix: If this is the cure...give me the disease.
Behind the Scenes
Edit
The German title for this episode is "An der Nadel" ("Hooked"). (A word-by-word translation of the phrase would be "on the needle", which is an idiomatic expression in German.)
Continuity
Edit
Canadian Content
Edit
Although they never reverse their direction, when Nick and Schanke are walking down Yonge Street, they pass the same bright yellow discount store sign twice.