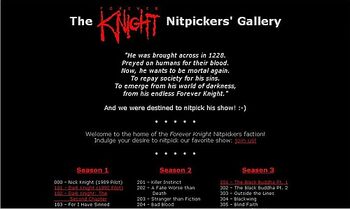 The Forever Knight Nitpickers' Gallery is a fan website (http://www.aithine.org/fkn/index.html), home of the Forever Knight Nitpickers' faction. The site is structured to give each season its own page (on which is a separate paragraph of nits and trivia for each episode), plus a page for miscellaneous information relating to the series as whole. However, so far, only a handful of episodes have actually been "nitpicked" through.
The site was created on 27 July 1998, and last updated on 21 August 2003.
The following episodes were nitpicked:
External Links
Edit
Ad blocker interference detected!
Wikia is a free-to-use site that makes money from advertising. We have a modified experience for viewers using ad blockers

Wikia is not accessible if you've made further modifications. Remove the custom ad blocker rule(s) and the page will load as expected.