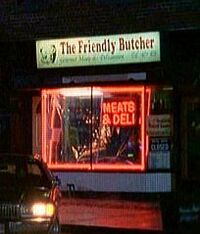 The Friendly Butcher is one of a number of small stores that appear in the background of the opening scenes of the episode "Strings". These scenes were filmed on location on Coxwell Avenue in East York (now part of the amalgamated City of Toronto).
As Christie Black's mother gets off the bus, there is a car lying in wait for her outside What's in Fashion and The Friendly Butcher. The car accelerates past Wayne's Supermarket and Peter's Paint & Paper before knocking her down. She is then shot to make sure she was dead.
On the sign, under the name of the store, it reads "Gourmet Meat and Delicatessen", with a red neon sign in the window reading "Meats & Deli". A sign on the door giving the hours of operation is turned to read "Closed". The Friendly Butcher seems to have gone out of business sometime since the filming of the episode.
Ad blocker interference detected!
Wikia is a free-to-use site that makes money from advertising. We have a modified experience for viewers using ad blockers

Wikia is not accessible if you've made further modifications. Remove the custom ad blocker rule(s) and the page will load as expected.