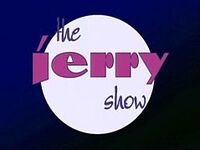 The Jerry Show is a talk show which features themed interviews with groups of guests. The show is hosted by Jerry Tate, but its success is largely the result of the hard work of Charly Hawkes behind the scenes. Segments produced or in the pipeline include interviews with "Punks and Monks", people who believe they have supernatural lovers, and hit men who marry their intended their targets. The show is filmed in front of a studio audience.
The plot of the Forever Knight episode My Boyfriend is a Vampire revolves around The Jerry Show, its on-air and behind-the-scenes personalities, and its guests. The soundstage on which the show is filmed was a major set for the episode, with a stage area for Tate and his guests, raked seating for the studio audience, and cameras and sound equipment (and crew to operate them). There was also an office, to which Tate retired after an altercation on the set, and a long corridor suggesting a large studio.
| | |
| --- | --- |
| | |
My Boyfriend is a Vampire opens with Tate interviewing people who believe they have supernatural lovers. On that day, Tracy Vetter is in the audience; and Tate remembers this when one of the guests is murdered and Tracy and her partner, Nick Knight, come to the studio in the course of their investigation. Tate is obviously attracted to Tracy, and conceives the notion of doing a segment of his show on women who excel at traditionally male occupations—primarily in order to invite her to participate.
Under protest, Tracy agrees to do the show. She is persuaded to do a fake meeting with an informant, for which she is dolled up in clothes and cosmetics that she would never normally wear on the job. Tate assures her, however, that this is what is expected to make the segment interesting to viewers. During the staged scene, she is attacked; and this suggests that the murderer is in some way associated with the show.
With Captain Reese arranging a search warrant, Nick and Tracy go to the studio, where they split up. Nick heads for the office where Tate had talked to Tracy about going on his show. Tracy heads for the soundstage where the show is filmed. There she is surprised by Charly Hawkes, who is jealous of every woman who appears on the show, and has been murdering them in order to keep Jerry Tate for herself.
After Hawkes is arrested, Tate decides to continue with the show; and Tracy does the interview with him.
Ad blocker interference detected!
Wikia is a free-to-use site that makes money from advertising. We have a modified experience for viewers using ad blockers

Wikia is not accessible if you've made further modifications. Remove the custom ad blocker rule(s) and the page will load as expected.