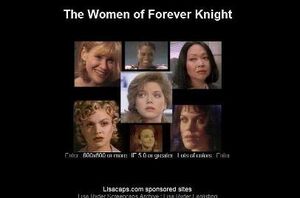 The Women of Forever Knight was a website devoted to the female characters in the Forever Knight television series. One of the ancillary websites associated with the Lisa Ryder Screencaps Archive and Affiliated Sites, it was formerly located at http://www.lisacaps.com/fkwomen/.
The website includes biographies of the actors and screen captures of their work—not only from episodes of Forever Knight in which they appeared, but also from other TV shows and movies in which they appeared. The actors featured are Catherine Disher, Deborah Duchene, Natsuko Ohama, Lisa Ryder, Kristin Lehman, Kathryn Long, and Sandi Ross.
Site Design
Edit
The website is located in a folder within Lisacaps.com. It has a splash index page dominated by a simple collage of seven screen captures, one for each of the actors.
The site has frames, with the ToC in the side panel. Each actor has her own section, with its own ToC. The main page for each of these subsections features a short biography.
For Disher, Duchene, and Ryder, there are further subsections for each season of Forever Knight in which they appeared. These also have their own ToCs, which list the episodes.
The number of screen captures per actress varies, but for some it runs into the thousands.
External links
Edit
Ad blocker interference detected!
Wikia is a free-to-use site that makes money from advertising. We have a modified experience for viewers using ad blockers

Wikia is not accessible if you've made further modifications. Remove the custom ad blocker rule(s) and the page will load as expected.