University of British Columbia
Talk

0
4,471pages on
this wiki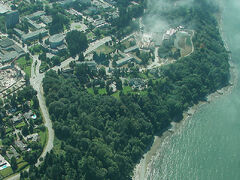 In the episode "Forward Into the Past", Aristotle creates a false identity for Madelyn Pinchot, former secretary to Katherine Barrington. Among the pieces of information that he included was her having a Master's degree from the University of British Columbia.
We do not know the subject in which Madelyn (or Natasha Perry, as she was known in her new identity) is supposed to have taken her degree. Indeed, there is no evidence that she ever attended UBC, or indeed visited Vancouver. The information is simply part of the false documentation supplied by Aristotle to support the creation of the "Natasha Perry" identity.
History of the University of British Columbia
Edit
The University of British Columbia is a public non-denominational research university with two campuses, one in Vancouver and one in Kelowna, British Columbia. The Vancouver campus is located on Point Grey, a peninsula about 10 km from downtown Vancouver.
From 1906 to 1915, the McGill University College of British Columbia operated as a private institution providing the first few years toward a degree at McGill University or elsewhere. A public university for the province of British Columbia was first called into being by the British Columbia University Act of 1908. By 1910, a site at Point Gray had been chosen. However, building was postponed by World War I. Instead, the new university absorbed McGill University College, and opened there in 1915. The Point Gray site did not become the home of the university until 1925.
Adapted from the Wikipedia article on the University of British Columbia.