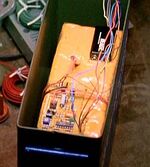 In "Black Buddha, Part Two", Vudu moves to the third phase of his bombing sequence by planting bombs hidden in transponder boxes throughout the tunnels of the subway system in downtown Toronto.
When the police realize this, Det. Nick Knight enlists two other vampires, Screed and the Inca to help search the tunnels and locate the bombs, so that the bomb squad can deal with them. Meanwhile, Nick's new partner, Tracy Vetter decides to get help from a man she has just met, who claims to work as a city engineer. However, this is actually Vudu himself.
Ad blocker interference detected!
Wikia is a free-to-use site that makes money from advertising. We have a modified experience for viewers using ad blockers

Wikia is not accessible if you've made further modifications. Remove the custom ad blocker rule(s) and the page will load as expected.