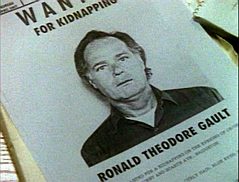 In Undue Process, Natalie Lambert's goddaughter, Cynthia Lambert Luce is kidnapped. The prime suspect in her disappearance is Ronald Gault, and a wanted poster is put up around the neighbourhood.
The top of the poster reads "Wanted", with "For Kidnapping" underneath; then there is a large picture of Gault. Under that is his full name: Ronald Theodore Gault. The print below is large enough to read; but most of the words are off screen, and no full sentence can be made out.
Ad blocker interference detected!
Wikia is a free-to-use site that makes money from advertising. We have a modified experience for viewers using ad blockers

Wikia is not accessible if you've made further modifications. Remove the custom ad blocker rule(s) and the page will load as expected.