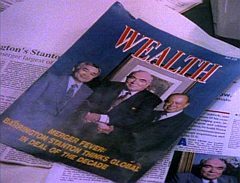 Wealth is a business-oriented magazine that appears in Forward Into the Past. Along with Commerce Weekly it is consulted by Nick and his partner for background information on the people involved in their current case. Its cover story, entitled "Merger Fever: Barrington Stanton thinks global in deal of the decade", provides the motive for murder: Jeremy Stanton has been running the company for years, and is in the middle of negotiating a profitable merger—unless his silent partner, Catherine Barrington lives to vote against it.
Ad blocker interference detected!
Wikia is a free-to-use site that makes money from advertising. We have a modified experience for viewers using ad blockers

Wikia is not accessible if you've made further modifications. Remove the custom ad blocker rule(s) and the page will load as expected.