WiliQueen's Woods is Valerie Meachum's website (http://www.wiliqueen.com/). It has a fan fiction section, divided by fandom, which includes a number of stories and poems based on Forever Knight.
Site Contents
Edit
The website is divided into multiple subsections, including personal material such as a photo album and a description of Valerie's wedding. Fan-related material extends across several fandoms, including Forever Knight. The site includes the following:
a page about wilis, including but not limited to Giselle;
Stargate SG-1 video;
fan fiction;
assorted graphics made by Valerie;
photo section:

personal photos;
theatre photos;
costumes she's made, including two based on Janette's gowns;
GateCon 2001, in Vancouver;
fan pictures, including two of Geraint Wyn Davies.
Fan Fiction
Edit
The site archives stories in the following fandoms: Amadeus, Beauty and the Beast, Blood Ties, Buffy the Vampire Slayer, Dark Shadows, Forever Knight, Highlander: The Series, Lost Boys, The Phantom of the Opera, Robin of Sherwood, Stargate SG-1, Star Wars.
The following Forever Knight stories and poems are archived:
Site History
Edit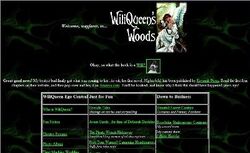 WiliQueen's Woods was first recorded by the Internet Archive 20 September 2000. At that time, it had a somewhat different index page design, although in the same black/green colour combination. This version of WiliQueen's Woods is archived here. By May 2003, the front-page design had been changed to the current version. Various internal reorganization continued, with the last edit made in 2008.
At one time, the site included an essay on depictions of Cinderella; a tribute to Deborah Duchêne; a tribute section on "swashbuckling ladies" (such as female pirates); a page showing three cards from an on-going Star Wars Tarot deck, and a gallery about Ophelia.
Ad blocker interference detected!
Wikia is a free-to-use site that makes money from advertising. We have a modified experience for viewers using ad blockers

Wikia is not accessible if you've made further modifications. Remove the custom ad blocker rule(s) and the page will load as expected.